Results
There was a significant increase in hair density at 3 months that was still significant at 6 months and one year following treatment as compared to baseline levels (before treatment).
Patients were satisfied with the treatment, giving an average score of 7.1 on a scale of 1-10.
No (major) adverse effects were noted.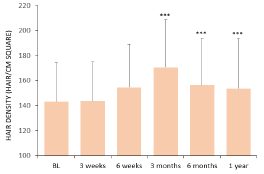 Data from Gkini et al.1 showing the hair density of patients treated with RegenPRP®. Mean±SD, *** p<0.001 compared to baseline (BL)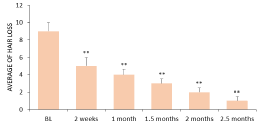 Data from Betsi et al.4 using the hair pull test to measure hair loss in patients treated with RegenPRP® injections every 2 weeks for a total of six sessions. Mean±SEM, ** p<0.01 compared to baseline (BL)